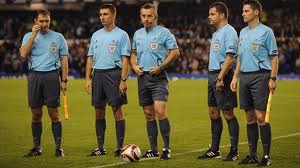 May 13 - UEFA President Michel Platini has suggested that the time has come to record conversations between referees during Champions League matches. He spoke during a visit to Lille in preparation for the 2016 European championship.
"I understand the referee didn't see the Thomas Muller's foul on Jordi Alba. Nonetheless it's incomprehensible that three international referees didn't see the foul. Something isn't working. One can make a mistake, two as well, but three, someone has to see it," he said.
Platini did not talk about the controversial Champions League semi-final between Málaga and Borussia Dortmund, where there were various incidents, including offside goals from both sides.
The use of five officials was first tried in the Europa League, which saw two more assistant referees behind each goal. The system is an alternative to goal line technology but has not been widely used outside of European competition to date. Goal-line officials will be used for the first time in Scottish domestic football at this season's Scottish Cup final.
Platini's position on goal-line technology is that It is too expensive. "It would cost around €54 million over five years for this technology, so it's quite expensive for the sort of mistake which happens once every 40 years," he said earlier in the year.
FIFA will be the first to use goal-line technology during the 2014 World Cup in Brazil. The English Premier League has also announced it is bringing in GLT.