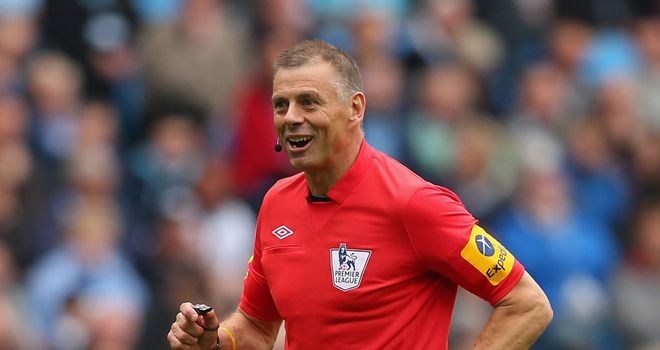 Referee Mark Halsey has bowed out of football and hopes his story can inspire other cancer sufferers.
The 51-year-old took charge of a game for the final time in Norwich's shock 3-2 win over Manchester City at the Etihad on Sunday having beaten non-Hodgkin lymphoma in 2009.
Halsey said after that match: "It's been a fantastic career for me, with ups and downs.
"I have had three great years since I have come back from my illness and hopefully I have been an inspiration for all those men, women and children out there living with cancer, and shown them we can beat this, that we can get back out there. Hopefully I have done a lot for them.
"It was a great game, a great advert for the Premier League. It was a great reception I got at the end, unbelievable. I never thought I'd get that and it shows the respect I've got. It was just absolutely magnificent.
"I don't think I have seen a referee get something like that before. I wasn't expecting it, not at all. At Man City I think the fans have got an affinity with me. They think I helped put them back on the map in 1999 in that play-off final at Wembley.
"It was a great day for me and my family. My family have been there for me. My wife has got leukaemia, she was there for me when I was battling my cancer.
"I have also got to say a big thank you to the PGMOL (Professional Game Match Officials Limited) for giving me the opportunity to become a professional referee.
"Chris Hughton (Norwich manager) gave me a hug and said a few more words to me. It was fantastic."